(AUDIO) Bahamas Prime Minister Perry Christie's remarks at Island Outsourcers official opening
By The Bahamas Weekly News Team
Jan 11, 2014 – 8:54:29 PM
Freeport, Grand Bahama Island – The Jamaican-based company, Island Outsourcers officially opened the first phase of their call centre on Thursday, January 9, 2014 at Trehl Plaza on West Atlantic Drive in downtown Freeport.TheBahamasWeekly.com is pleased to present herewith the entire unedited speech delivered by the Rt. Hon. Perry G. Christie, Prime Minister of The Commonwealth of The Bahamas at the opening ceremony.
In his remarks, The Prime Minister said of Grand Bahama; " We have concentrated focus on Grand Bahama because things are happening in Grand Bahama and things will happen in Grand Bahama, and to those who have a view negative to Grand Bahama, then I've come to tell you; perish the thought."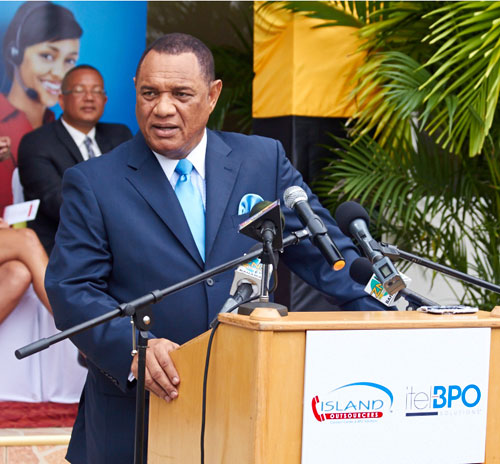 Photo: David Mackey – Mackey Media Ltd/ TheBahamasWeekly.com

Addressing community leaders the Prime Minster said, " You have to be able to see and allow yourselves to be seen to believe in the future. Why should any of you believe that where I'm sitting in my office, that I'm stupid. I ask the International Monetary Fund, Why would you want to believe that I'm stupid? Because I'm not. Why would any businessperson in The Bahamas not recognize that as leader of the country, I am someone who you can speak to, not speak at, not talk down to, but talk with, because I want what you want; an economy that prospers, an economy that experiences sustainable development and that can produce meaningful jobs for the young people of our country, and the only evidence I can point to is that when I was last in government we created 22,000 jobs, some people say 20, but we created the jobs and we are on our way to doing the same thing now."
Prime Minister Christie explained the link to Bahamas tourism, " Consumers and potential visitors will be prompted by Bahamas television or print ads to call 1-800-Bahamas with their questions. When they call this line they will be greeted and assisted on the other end by warm friendly and professional Bahamian voices. I am advised that more than 30 employees at Island Outsourcers who are dedicated call agents for the islands of The Bahamas, who are able to give callers the best possible information about The Bahamas, and our travel and tourism options. These 30 call center agents in particular were given intensive training to prepare them for their task. They underwent 4 weeks of extensive product knowledge training including Bahama Host."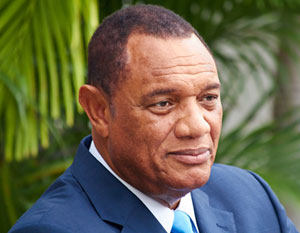 Photo: David Mackey – Mackey Media Ltd/ TheBahamasWeekly.com
Alluding to Value Added Tax the Prime Minster said, " I have to confess to amazement sometimes when there is a belief that I would impose, or my government would impose, a tax that would muffle the economy, that would cause setbacks to an economy coming out of recession, without in fact sharing the constraints for the government, and under which the government is operating. No one in this country must pretend not to know that there are rating agencies and The International Monetary Fund. We are prepared to share every bit of information we have so each and every person who has an interest can arrive at their own conclusion as to what is the right course of action to take. So as we look to countries to the South and we see the handicapping circumstances under which they are trying to operate, we have to be mindful of why we must continue to drive hard to take advantage of all the benefits that God has given this country by geophysical positioning; being the closest offshore country to United States of America." The Prime Minster went on to say, "I have every intention of leaving The Bahamas in the best possible condition when it is my time to move on".
There was much said by The Prime Minister, We encourage you to listen to his entire discourse.
The direct audio link is HERE.